View cart
"Laneige Water Sleeping Mask (Lavender) 15mL" has been added to your cart.
Laneige Lip Sleeping Mask 3g
₨ 799.00
Exfoliate lips overnight
Chewy tight lip
Lip sleeping mask that gently melts away dead skin cells from the lips to make the lips feel smooth and elastic
Recommended for

Concern about dry chapped lips
To avoid the hassle of wearing lip balm
Wear lip makeup frequently
It is an overnight lip care product that puts the lips into the best condition for makeup the next morning
Lip Sleeping Mask
THE PROOF
The secret of Lip Sleeping Mask for smooth and elastic lips
Berry extracts rich in vitamin C and anti-oxidants act on dry, rough lips, making them smooth and supple

SECRET 1.

Berry Mix Complex™ full of anti-oxidants

Dense beta-glucan based moisturizing layer composed of Hydro Ion Mineral Water and evening primrose root extract and Hunza apricot extract provides deep hydration that lasts for up to eight hours

SECRET 2.

LANEIGE's patented moisture technology, Moisture Wrap™

It is a fresh lime scent reminiscent of fresh picked apple

SECRET 3.

Four different scents of Lip Sleeping Mask
TEXTURE
A lip mask that softly adheres the sticky form

Lip Sleeping Mask [Berry]
Contains a pleasant, sweet berry scent; the main product of Laneige lip sleeping pack!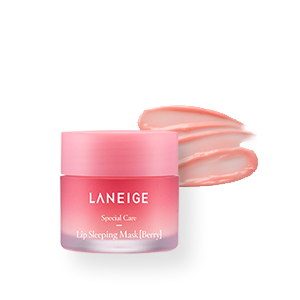 How to Use Lip Sleeping Mask
STEP 1.

Before going to bed at night, apply an adequate amount on the lips using the built-in spatula.
※ Effects: Melts out stubborn dead skin cells from the lips overnight, provides abundant moisture to the lips.

STEP 2.

The next morning, gently wipe the lips clean with tissue or cotton pad.
※ Effects: Makes the lips feel smooth and elastic.

Wearing the mask, go to sleep. If you wipe off the mask next morning your lips become smooth lips

After using this mask, I can apply matte lip stick without emphasizing the chapped lips

If I wear handful of it and then go to sleep, my lips gets moist and firm in the next morning